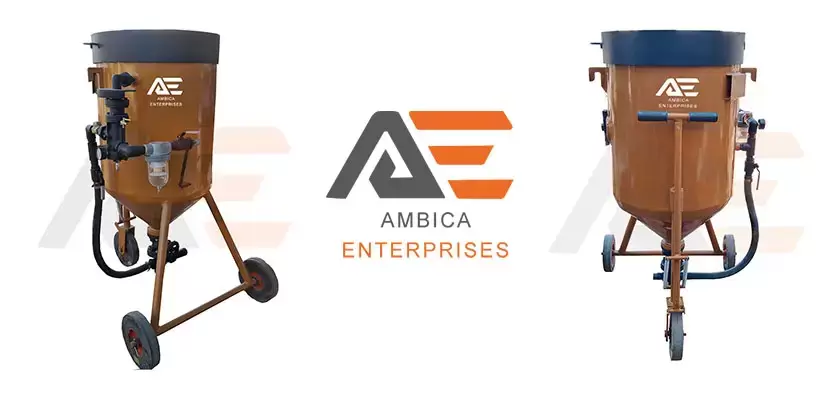 Ambica Enterprises is the manufacturers of shot blasting machine in gurgaon. A shot blasting machine is an enclosed piece of equipment used to clean and prepare metal, stone, and other surfaces with abrasive blasting. It's a shot peening and cleaning machine for metal parts such as forgings, castings, steel surfaces, heavy metal structures, rusted metal parts, and so on. Shot blasting machines employ blast media to remove surface rust, welding slag, and descaling from metal parts in an enclosed chamber, making them uniform, shining, and improving the coating quality of anti-rust chemicals. Steel grit blasting machines are available in various sizes and capacities from shot blasting machine manufacturers in Gurgaon, Pune, Mumbai, Delhi, Ahmedabad, Hyderabad, Faridabad, Punjab, Bangalore, Coimbatore, Chennai, India.
Shot blasting machine has an enclosed chamber for shot and grit blasting, as well as a bare wheel that revolves at a high speed, blasting media like steel shots, steel grits, or cut wire shots on metal objects for surface finishing. Each bare wheel has a capacity ranging from 60 kg per minute to 1200 kg per minute.
A dust collection system is also included with shot blasting machines to prevent small particles, contaminants, and dust particles from escaping into the environment. A dust collector attached to a shot blasting machine prevents abrasive shots media waste as well as pollution of the environment. Ambica Enterprises, a leading manufacturer of shot blasting machines in India, produces extremely reliable, low-cost shot blasting machines that are dust and pollution-free.
Shot Blasting Process
Shot blasting is the process of blasting abrasive material such as steel shots or steel grits at very high velocity onto a surface such as iron, steel, cast-iron parts, forgings, rusted pipes, iron bars, engine, and automotive parts using the centrifugal force generated by a high speed rotating disc in a shot blasting machine. Shot blasting machines are also used to change the mechanical properties of certain components, such as springs and gears, to improve fatigue resistance.
Shot blasting, unlike Sand Blasting, does not produce large volumes of dust and is considerably more environmentally friendly, which is why it is also known as a Dustless shot Blasting machine in India. Because a shot blasting machine is similar to a closed chamber, dust particles formed during the blasting process remain contained within the chamber and do not harm the environment. Shot Blasting Machines in Gurgaon, India are available from the leading Shot Blasting Machine Manufacturer at an affordable price.
Shot Blasting uses in Various Industries
ShipBuilding and ShipYard
Aerospace and Aircraft Maintenance
Iron & Steel Castings and Other Metal Foundry
Aluminum Casting
Forgings
Rail
Foundries
Steel Fabrication
Car and Bus Painting
Alloy Wheels Cleaning
At construction sites, shot blasting is also used to clean floors, roads, and outside walls.
Shot blasting is also used to clean underwater pipes and tanks prior to coating or re-coating them to avoid corrosion.
It's important to mention that when we talk about shot blasting (Airless), we're talking about a shot blasting machine that operates by turning electric motor energy into kinetic abrasive energy by revolving a centrifugal wheel at a minimum of 60 kg per minute and up to 1200 kg per minute.
Shot blasting machine in Gurgaon is used to de-rust, descal, deburr, desand, or clean big metal components or surfaces that cannot be cleaned efficiently using other traditional or manual procedures because they employ such enormous amounts of rapid blasting medium.
The distinction between shot blasting and sand blasting is straightforward. Sand blasting uses compressed air to force the abrasive towards the surface that needs to be cleaned, whereas shot blasting uses an electric motor to propel the abrasive toward the surface. shot blasting machines Manufacturer in Gurgaon for forging components, casting components, shot peening, grit blasting, and cleaning iron parts.
Shot Blasting Machine Manufacturers
shot blasting machine manufacturers in Gurgoan. Ambica Enterprises, based in Gurgaon & Pune, Mumbai, Delhi, Ahmedabad, Hyderabad, Faridabad, Jodhpur, Rajasthan, India, has mastered the processes of shot blasting and sandblasting for use in a variety of industries, including castings, forgings, fabrication, and coatings. For over a decade, we have been one of India's leading manufacturers of shot blasting machines and sand blasting machines, offering a variety of models for a variety of applications, including the Portable Shot blasting machine, Tumblast Type Shot Blasting Machine, Blast Cabinet, Cabinet Type Shot Blasting Machine, Spinner Hanger Type Shot Blasting Machine, Blast Room, sand blasting machine, grit blasting machine, thermal spray gun, arc spray gun, metalizing gun, abrasive media, and many others.
Shot Blasting Machine price
shot blasting machine price depends on the size, type, and cleaning rate of the shot blasting machine in India. Shot Blasting Machine Price in India depends on the amount of the abrasive container, cleaning rate & size of the shot blasting machine for sale.