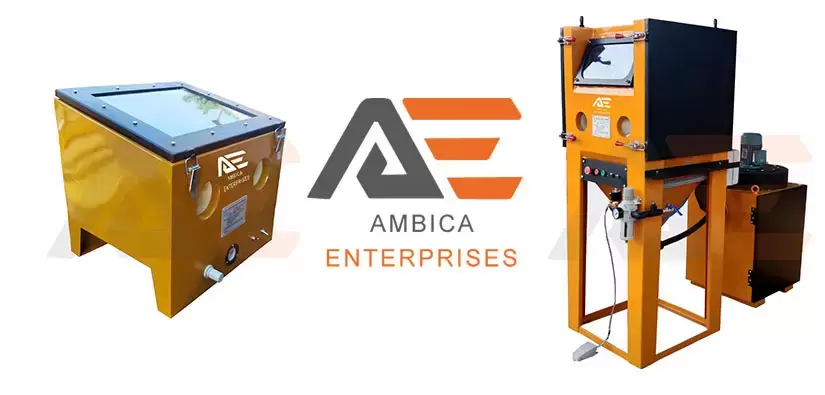 Mini sand blasting cabinet is a cabinet consisting of many components use for sand blasting the substrate surface. Sand blasting is a process in which blasting abrasives is sand. it is a cabinet having in one feature. We use this mini sand blasting cabinet only for abrasive media like 30/60 Mesh, steel grit, aluminum grit, copper Slag, etc. Cabinet eliminates the requirement of safety equipment because the cabinet protects the operator from the microparticles of abrasive.
There is no difference between the cabinet like mini grit blasting cabinet, Mini Sand Blasting Cabinet, shot blasting cabinet. Cabinet differs only on behalf of Pressure, Wet & suction blasting cabinet. In front of the cabinet, it has a two-hole section in which we can put hands into gauntlets that having gloves for a blasting workpiece. it consists of a closed package of Dust collector, Sandblasting Machine, Gloves, sand blasting hopper, etc. Outside the cabinet when sandblasting is completed then there is an air gun for cleaning up residue particles from the surface of the workpiece.
Applications Of Mini Sand Blasting Cabinet
Depending on the type of blasting required, such as sand blasting, the pressure blasting cabinet employs a variety of abrasives.
Sand blasting cabinets are used in a variety of applications, including shot peening, glass bead blasting, granite engraving, and others.
The sand blasting cabinet is an environmentally friendly abrasive blasting procedure because it collects all media by blasting to the fabric bag dust collector.
In a sand blasting cabinet, a closed chamber is used for surface cleaning, finishing, and texturing to protect the environment and personnel.
Tumblast Sand Blasting Cabinet
Tumblast is made up of perforated sheets molded into a hexagonal shapes having 8mm holes. These 8mm holes are used to recollect abrasive from the hopper. It is connected to the electric motor which further connected to the gearbox to reduce the rpm of tumblast cabinet.
Mini Sand Blasting Cabinet Price
We are a manufacturer, exporter, supplier of various types of cabinets like sand blasting cabinet, sand blasting machine, grit blasting machine, shot blasting machine, shot blasting cabinet, grit blasting cabinet & in this cabinets are further categories in pressure blasting cabinet, wet blasting cabinet & suction blasting cabinet.