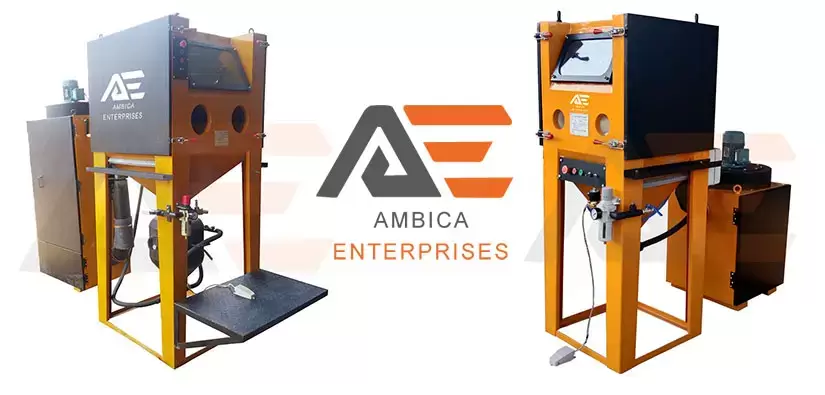 Sand Blaster Cabinet
Our Sand blasting Cabinet is used for scouring small and medium components like metal, wood, ceramics, mold, die, casting, glass, etc. Sand blasting machine can also be used to change the term of a metal's surface, such as through removing scratches or casting, mold marks. blasting Cabinet is using for Etching and Engraving of glass and granites. Blasting Cabinet are two types according to their sizes :
Large Sandblasting Cabinet
the large blasting cabinet is used in a variety of industrial applications where the surface material, such as paint, rust, or corrosion needs to be removed in order to make the surface new. The shots can control automated recycling and dust from the control blasting cabinet dust extractor. This dust extractor capacity depends on the size of sand blasting cabinets.
Small Sand blasting Cabinet
This type of small blasting cabinet is used for small components, broken chargers, small castings, related components such as pistons, sand blasting nozzles, turbochargers, gears, clutch, disc brakes, brake shoes, etc & used to clean and abrade a surface, of any rust, typically metal, paint or other unwanted surface material. Small cabinets can be divided into mini blasting cabinet and small blasting cabinet.
Sand Blasting Cabinet price in India
sand blasting cabinet price in India depends on the types and size of sand blaster cabinet. Ambika Enterprises is the manufacturer & supplier of all types of sand blasting cabinets, portable sand blasting machine, shot blasting machine, thermal spray gun, and abrasive media in India for sale.